Welcome from the Chair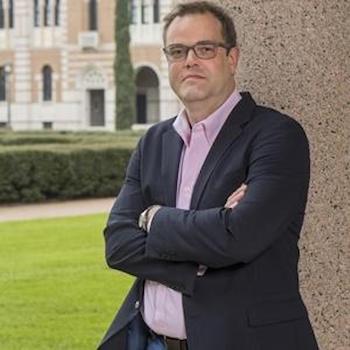 "Thinking is dangerous," the German-Jewish philosopher Hannah Arendt once said.
Stateless and fleeing from the Nazi regime first to Paris and finally to New York, Arendt recognized the critical potential of language, literature, and philosophy. She read Greek and Latin, and she wrote in French, German, and English, quickly becoming one of the most influential public intellectuals on both sides of the Atlantic.
If Arendt were a twenty-first century student at Rice, she would be a student in our department. We are not only a multilingual department, but we are the only department at Rice in which you can take courses on French citizenship, the Mexican Revolution, German film, Spanish Baroque drama, the literary culture of the Roman Republic, and Greek tragedy—all at the same time and in the same semester.
Arendt's experience of exile and intellectual intervention does not only reflect the modern condition. Writers and philosophers, artists, film directors, and revolutionaries have always been in transit. Ideas, goods, languages, and people migrate together—sometimes willingly, often forced—from the ancient Eastern Mediterranean to the global present. Ideas and languages are transnational. They cross borders, real and imagined, create literary traditions and social movements, governments, revolutions, and political economies of exchange. They make visible and, at the same time, they transcend the complex relationships among exile, diaspora, and home. They create and subvert identities.
One book can change the world. Plato's The Republic (ca. 375 BCE) introduced us to the question of justice. Montesquieu's The Spirit of the Laws (1748) made us take seriously the separation of powers in the modern state. Goethe's epistolary novel The Sorrows of Young Werther (1774) started the modern youth movement. Frantz Fanon's The Wretched of the Earth (1961) shaped the global struggles for decolonization throughout the twentieth century. One book is enough. Really. Technological gadgets rarely stand the test of time. Books last.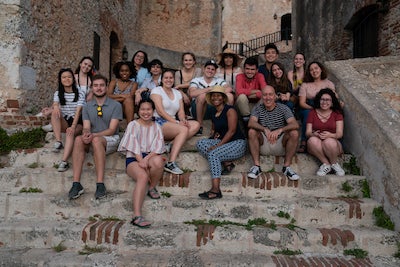 Research and teaching are always closely connected in our department. Students are able to work closely with faculty who are at the forefront of their respective disciplines. They become familiar with a broad range of authors, texts, and media, but also with an equally broad range of disciplinary perspectives in the humanities. Our faculty publish widely, lecture across the world, they organize conferences and workshops, and they bring internationally renowned guest speakers to Rice. We live what we teach.
Studying in any of the programs in Modern and Classical Literatures and Cultures offers a contextual reflection on our place in this world—guided by critical thinking, the effective use of language and argument, and cultural and historical knowledge. These are, to be sure, foundational "core skills" that ground our understanding of "who" and "what" we are. Thinking—critical thinking—is relevant to the big questions that shape our global future. Higher education needs to be more than mere training for the invention of useful technological gadgets and the production of short-lived partisan policies. Thinking requires us to understand the cultural complexities and contested identities that mark a dramatically diverse, multicultural and global society; it allows us to reflect on ourselves and on the linguistic and historical, cultural and political conditions that shape the decisions we can make as responsible citizens in this world. That is what we do.
Critical thinking in a diverse global world cannot be realized without the kind of knowledge and expertise that can only be accessed through proficiency in world languages, such as French, German, Greek, Latin, Spanish, and Portuguese. Thus, one part of our focus is certainly on languages that allow students to engage with a diverse and global society. But the cultural, aesthetic, historical, political, and even technological contexts connected to these languages are an equally important part of our focus. It is only on the basis of bringing "language" and "context" together that we are able to intervene in the world. Language is always more than just talking and twittering; with language we shape the world we live in.
Language is a constitutive part of culture and geography, literature and visual media, history and philosophy. The aesthetic, social, and political possibilities of the present are as much informed by their languages as they are by the ideas and events of a seemingly distant past—from the Greek polis and the Roman imperium through the "Golden Age" of the Spanish Renaissance to colonialism in the Caribbean and Africa and the artistic and political transformations that define the modern world on both sides of the Atlantic.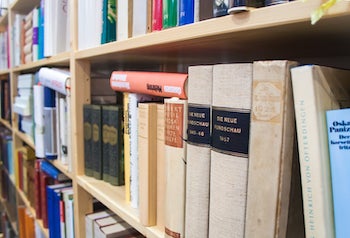 What is culture anyway? What is Europe? What is Global Latin America? Why is Greek tragedy important for us today? Has modern France really overcome its colonial past? How are indigenous forms of democracy portrayed in Mexican literature? Why are the German Enlightenment and the French Revolution still relevant today? What can we learn from Latin poetry and Caribbean literature about natural disasters? Can there be an ethics of cinema? How do gender, race, and sexuality complicate our understanding of globalization since the Renaissance?
Questions such as these are foundational not only to the humanities, but they are also foundational for critical thinking and responsible citizenship. These are the questions our students and faculty encounter when they read Plato and Aristotle, Virgil and Cervantes, Montesquieu and Voltaire, Kant, Goethe, and Hegel, but also Baudelaire and Flaubert, Marx and Nietzsche, Frantz Fanon, Simone de Beauvoir, Michael Foucault, Jorge Luis Borges, Maryse Condé, Clarice Lispector, Gabriel García Marquez, Gloria Anzaldúa, Rigoberta Menchú, and, of course, Hannah Arendt, among many other authors into the twenty-first century.
Modern and Classical Literatures and Cultures is an intellectually vibrant, student-friendly, and research-centered department that is home to six programs: Classical Studies, European Studies, French Studies, German Studies, Latin American Studies, and Spanish and Portuguese. Each of these programs offers a major that will lead to a B.A., and additionally we also offer six distinct minors: Classical Civilizations, Greek Language and Literature, Latin Language and Literature, French Studies, German Studies, and Spanish and Portuguese.
However distinct these programs might seem, students and faculty work on a common project: a critical and historically informed understanding of the world we live in. Additionally, our faculty play a leading role in interdisciplinary programs, such as Politics, Law and Social Thought, Cinema and Media Studies, and Jewish Studies, and in the Center for the Study of Women, Gender and Sexuality, and the Center for African and African American Studies.
Our courses cover the entire range of the Atlantic traditions: historically from ancient Greece to the present; geographically from the Eastern Mediterranean to Germany and France to the Caribbean, Latin American and Africa and back again. Our students are not only open to the world, but we also provide them with first-hand experience of the world outside the U.S.—to see the world with different eyes—through study-abroad opportunities in Athens and Rome, for instance, in Paris, Madrid and Cuba, and in Leipzig and Berlin.
Whichever program our students choose, and some choose more than one, they graduate from Rice as linguistically proficient critical thinkers with a historically grounded understanding of the world they live in.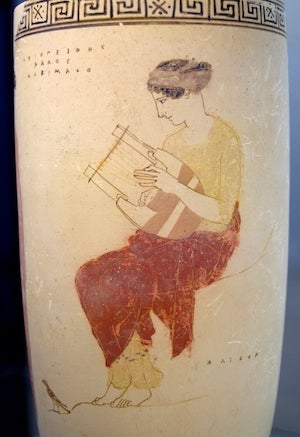 Our students are in good company. Thucydides founded what is now known as international relations theory. Cicero was both the leading politician and the major political thinker of his day. Montaigne became the mayor of the city of Bordeaux. Goethe, the poet who coined the term "world literature," was a lawyer, civil servant, and diplomat. Gabriela Mistral, the first Latin American writer to receive the Nobel Prize in Literature, reformed public education in Chile and Mexico and served as a diplomat at the League of Nations. André Malraux became the Minister of Cultural Affairs in France. Aimé Césaire was one of Martinique's most influential politicians. The novelist Octavio Paz was also a diplomat in New York, Tokyo, Geneva, and Paris. And Victoria Santa Cruz, a choreographer and drama professor, who through her creative and political work played a key role in the recovery and celebration of African cultural heritage in Peru.
That's what reading and thinking do to you. Our students travel the world. They intervene in the world. And they change the world.
Not surprisingly, many of our majors continue their education at some of the top graduate and professional schools on both sides of the Atlantic. And we look forward to what they will do in the future.
— Welcome to Modern and Classical Literatures and Cultures at Rice.